Midfielders form the backbone of the team apart from the defense. The midfielders connect defense from attack. The midfielders are divided into three categories- Attacking midfielders, Central midfielders and Defensive midfielders. Here the Sportsanalyst have compiled the top three best midfielders in the Premier League.
Kevin De Bruyne

It's not much of a debate anymore. Kevin de Bruyne is absolutely the most gifted attacking midfielder in the Premier League. The Belgian has and is still proving why he leads the pack among Premier League footballers who make things happen from the middle of the pitch. In August 2015, Manchester City signed De Bruyne from Wolfsburg. The Citizens, led by Manuel Pellegrini, wanted an attacking midfielder who could manufacture goals. They found
their man in the blonde Belgian midfielder. At that point, De Bruyne had been outstanding in the Bundesliga. The German leagues top assist provider in 2014-15, he was named
Bundesliga player of the year twice. The eye test allows us to be sentimental regarding our favourite players, but we simply cannot argue with the statistics. He has improved with the
beautiful football tactics of Guardiola of high pressing and possession play which favour De Bruyne. Last season, KDB provided 18 assists. No Premier League player outdid him in that aspect. He also scored eight league goals. Chelsea would be regretting to let him go.
David Silva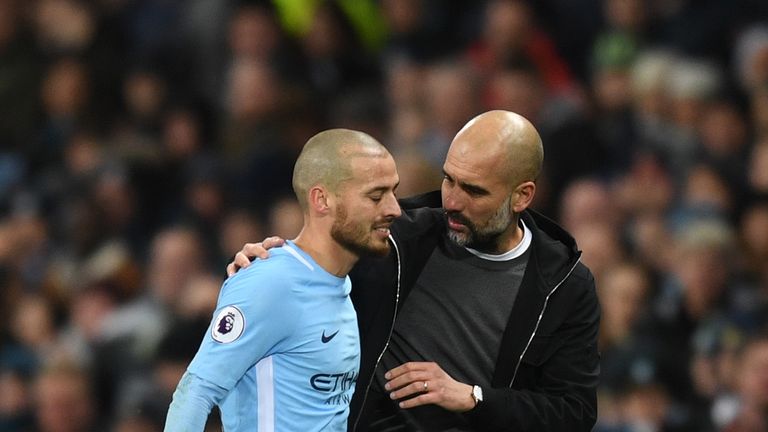 He is too understated, too unflashy and too unassuming to command the limelight. There are times when he has been too infrequent a scorer to capture enough headlines. There is the sense, too, that he is a purist; player and purists will always be in a minority. But the Spaniard has always been consistent throughout the decade for citizens but due to his unflashy nature, he was never able to hog all the limelight.
Being the part of one of the best midfields in PL, partnering KDB he has been an integral part of the midfield unlocking defences with grace and fascinating through balls, his one-touch play, ball possession everything about him is so graceful. Scoring 9 goals last season and assisting 11 he was one of the top performers in the PL last year.
Also Read: Best Attacking Line-ups in Europe at Present
N Golo Kante
N'Golo Kante has forged a reputation for being one of the hardest working midfielders in the Premier League since his arrival in 2015. After several imperious midfield performances helped Leicester City pull off an incredible title victory in 2015/16, Chelsea parted with £30 million to bring him to Stamford Bridge. He repeated his league-winning heroics with the Londoners in 2017, to prove the previous season had not been a fluke. Comparing with the above two mentions in the list Kante is a different midfielder altogether comparing how they play Kante is a defensive midfielder who shuts down and intercepts the attacks of the opposition he had a tackle success rate of 68% last season with 85 interceptions.